Providing a home, schooling, and a new life
Akha Outreach Foundation's focus is to glorify God by reaching all the Akha with the Gospel of Jesus Christ in the power of the Holy Spirit by raising up Akha Christian leaders for the generations to come. Each of the four areas of ministry works together toward this end.
Akha Outreach was established with a vision to reach all two million Akha in the five countries where they reside. The idea for the method was unique: Build a Bible school and children's home on the same compound, everyone working together as one family. In 2000, friends from the USA and Singapore purchased five acres of land just outside of Chiang Rai, Thailand. The Akha Outreach compound is strategically located about fifteen minutes away from the closest school and thirty minutes away from the from the closest Akha village. At any given time, approximately 120-150 people live and work together in our unique "village."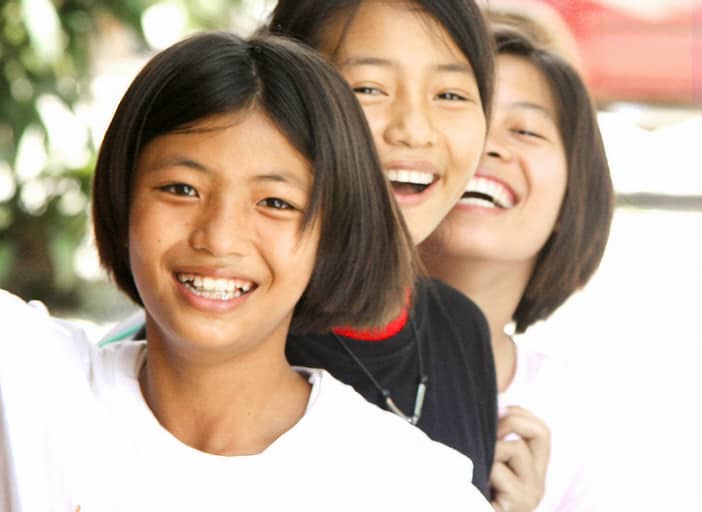 Four-Fold Ministry
Over the years, our ministry has grown into four separate, yet interrelated, branches. The first is House of Joy, home to orphaned, abandoned, and underprivileged Akha children from the surrounding villages. The second is Akha Bible Seminary, the only full-time, four-year Bible school in the Akha language. The third is Akha Outreach Services, a church planting ministry. And the fourth is Akha Outreach Media, a studio for the production of teaching and evangelistic materials in the Akha language.
Official Status
In 2001, Akha Outreach registered as a 501(c)3 non-profit organization in the USA, and in 2004 we were granted the coveted foundation status by the Thai government. In addition, our church planting ministry became an official member of the Evangelical Fellowship of Thailand in 2006. We have a local and international board of directors which convenes once a year to ensure that we are observing the bylaws and to suggest ideas for improvement of the various programs.
House of Joy opened in 2001 as a home for underprivileged, high-risk and orphaned Akha children. We provide for their physical, educational and emotional needs while seeking to cultivate within them a love for God and a passion for serving others, especially their own people. At this time, we serve 75 children ranging in age from 7 to 20 years old.
Our home, located on the same facility as our Bible school, provides children with a loving and nurturing environment, enabling them to achieve their full potential as human beings and as members of a larger community. These children come from extreme circumstances that deny them hope for the future.
A Brighter Future
In addition to enjoying a loving and stable family environment, House of Joy children attend public school and progress as far as they are able in the Thai educational system. This stands in stark contrast to the educational opportunities available in Akha villages, which generally offer only primary-level schooling the quality of which is lacking – some village schools unofficially let out at noon because the children just leave! We aim for the children who graduate House of Joy to have a vocational or a college degree as well as the life skills necessary for them to support themselves and their families. Our children help out with chores around the compound, where they are instructed in practical matters such as housecleaning, car maintenance and cooking.
Agents of Change
At House of Joy, the children are encouraged to develop pride in their cultural heritage and maintain all healthy relationships within their home community. For three days every year, one relative per child will come down to work on the facility to create a sense of ownership in the ministry and a stronger relationship with the child. These times encourage responsibility in the relatives and reduce the likelihood of the child feeling abandoned. Then, on school breaks, most of our children return to their home village to stay with relatives.  While there, they often act as agents for positive change in the community, which furthers the vision to reach all the Akha with the Gospel of Jesus Christ. Read the story of Sango village: A Congregation of Two.
Keeping the Culture
Though difficult to measure, prejudices often limit educational and social progress for hill-tribe people. Consequently, these people are often ashamed of their heritage. At House of Joy, however, we encourage our children to maintain their indigenous Akha culture and speak the Akha language to one another. We also teach them to read and write Akha and to understand their culture from a Christian perspective. In this way, we believe our children will retain their "Akha-ness" and have a greater ability to reach their own people for Christ.
How You Can Help
Each child has sponsors who make it possible for him or her to live at House of Joy. They cherish the photos of their sponsors' families and exchange translated personal letters at least twice a year. If you would like more information about sponsoring a child, please click here: Sponsor a Child.
Our leadership training began in 2002 with the establishment of Akha Bible Institute (ABI), a full-time, four-year Bible school in the Akha language. Since then, we have seen God transform hundreds of lives through Bible-based, anointed teaching and discipleship. In 2005, we expanded to monthly training for pastors and leaders. Over the years, we have grown to offer 7 different programs for people from all walks of life. At present time, more than 170 Akha leaders are being trained in the Word through Akha Bible Institute. At the close of the 2013 school year, we had 166 graduates from all programs, over 70% of whom are currently serving in ministry. This is made possible through the international Body of Christ partnering with us in prayer and support.
How You Can Help
$50 per month covers one Akha leader's Bible training. This amount helps toward operating expenses of the Akha Outreach campus, including teachers' salaries and utilities. The leaders themselves pay a nominal fee for the training, which helps to cover the cost of food. As a supporter of ABI, you will receive personal testimonies from a leader twice a year as well as emailed prayer updates. We also encourage supporters to come and visit Thailand and see what God is doing at Akha Bible Seminary!
Click Here To: Support Akha Leadership Training
Akha Bible Institute is the only full-time Bible school in the Akha language. We opened in 2002 as a long-awaited response to the lack of biblically-trained Akha leaders. Our students live and study for three years at the House of Joy compound. This nurtures a family atmosphere, benefiting both the children and the Bible students alike. Their fourth year is spent interning in Akha villages where they put into practice their new-found scriptural knowledge.
Our first semester began in May 2002 with two full-time staff and fifteen students eager to fill the need for Akha leaders in the Akha church. In March 2006, eleven students became the first graduating class.  Each year a new class of fifteen students begins their studies, sustaining the current size of the school at around sixty students.
Our Students
Our students range in age from 16 to 30. Many have only completed a 9th grade Thai education, but some do not even speak Thai when they come to us. This is not a problem, however, since our curriculum is in the Akha language. Still, we do a two-week crash course in how to read and write Akha at the beginning of the first year. In addition, most of our students come from broken backgrounds, just like our children, and we see our school not only as a place for training but also as a place of healing and restoration. Read Anm's story: Immigrant to Princess.
The Curriculum
Our curriculum includes both traditional courses such as Old Testament Survey as well as individual counseling sessions and teachings on spiritual warfare. Second and third year students participate in weekend internships in the villages, and fourth year students spend a full school year in a village learning practical ministry alongside a trusted Akha pastor. In addition, Akha Bible Institute partners with the Thai government in providing free adult education to our students, allowing them to complete their 9th or 12th grade level education and receive a certificate similar to a GED.
The Outcome
Over half of Akha Bible Institute students go into full-time ministry, many of them returning to their home villages to pastor. They often return to the compound to celebrate special events with the AOF family. We also hold alumni retreats, which have been very popular. In addition, many of our current staff at Akha Outreach are graduates of Akha Bible Institute. Read Atu's story: Why Won't You Be Like Other Sons?
How You Can Help
Most of our students are from impoverished families and so we keep our tuition minimal: about $170 per year (full-time room and board for nine months out of the year). However, this does not cover operating expenses for the school and we need additional support for these costs. If you would like to contribute to training Akha leaders at our Bible school, please click here: Support the Bible school.
Akha Outreach Services, a village church ministry, was recognized as an official church organization under the Evangelical Fellowship of Thailand in 2006. This ministry encompasses every village activity from pastoral training to community development projects. Many Akha Bible Institute students find ministry placement under this branch.
Village Outreach
This area of ministry actually began in March 2003 to provide a practicum to the students who had completed their first year of training at Akha Bible Institute. Through this branch, students began to spend weekends in Akha villages, witnessing to non-Christians, helping Christians and just building relationships. Eventually, we began to invite village pastors to come to the compound once a month for Bible training and fellowship. The response was overwhelmingly positive as the pastors exchanged advice and grew strong roots in the Word. To this day, we are doing the monthly pastor's training and more pastors are added to the program every year.
Becoming Official
March of 2005, Akha Outreach Services expanded to include an internship program. Students who had completed their third year at Akha Bible Institute were required to intern with any approved ministry for ten months before their graduation.  In 2006 the Evangelical Fellowship of Thailand recognized Akha Outreach Services as a church organization, with twelve official congregations to begin with.
Becoming Christian
When an Akha village contacts us to become Christian, it is a group decision. Several heads of households will get together and decide they have the option of coming under this ministry branch. Read about a village coming to Christ: Hoi Taht – 200 Strong in One Week!
A Healthy Church
The goal for all of our congregations is for them to become self-governing, self-supporting, and self-propagating. To this end, we have a board of representatives from the different churches to make administrative and financial decisions for the group. We also encourage local congregations to support their own pastors and not pay a salary to the ministers in our group. However, we do provide monthly training, transportation costs, and, in certain cases, educational scholarships for the pastors' children to attend school. Finally, our training is geared toward outreach and missions, and self-propagation. We've already had one of our churches plant a new one on the other side of the mountain, and we look forward to many more stories like this one: The Churches on Elephant Mountain.
How You Can Help
Support Leadership Training
$50 per month covers one Akha leader's Bible training. This amount helps toward the operating expenses of the Akha Outreach campus, including teachers' salaries and utilities. The leaders themselves pay a nominal fee for the training, which helps to cover the cost of food. As a supporter of ABI, you will receive personal testimonies from a leader twice a year as well as emailed prayer updates. We also encourage supporters to come to visit Thailand and see what God is doing at Akha Bible Institute!
Click Here To: Support Akha Leadership Training
Build a Church
Although our church ministry aims to be self-supporting, we often help villagers who decide to become Christian purchase the concrete for their church foundations. After that, the congregation can gather to build either a bamboo or concrete structure, depending on the economic status of that particular village.
Click Here To: Build a Church
Seven Borders, also known as Akha Outreach Media, is the newest branch of our ministry. It was officially established in 2010 with a mission to equip the Akha church with Biblical media in the Akha language.
Media – Part of Our Organizational DNA
Creating media to reach the Akha for Christ has been a part of our plan since the beginning. As a young adult, Dr. Aje was creating worship and teaching cassette tapes. Read a story here: We've Walked Three Days to Find This Tape. We have been involved in the recording of audio versions of the Akha Bible and both the original and the children's version of the Jesus Films (watch online: http://www.jesusfilm.org/film-and-media/watch-the-film) in Akha. These were the humble beginnings of what has now become Akha Outreach Media.
Getting Started
Toward the end of 2009, our Singaporean friends donated a new computer, mixer, and video camera to our budding media center. We began to learn the equipment and two students and two staff members took part in a week-long MediaLight seminar with an emphasis on Christian leadership. Less than six months later, we received a call from Project Video, a subsidiary of Wycliffe, saying they wanted to interview us as potential recipients of a media grant. Six months after that, we were honored to receive professional video cameras and production equipment via the generosity of Project Video supporting churches. Around this time, a family from Colorado heard of our new ministry and donated the funds to build a professional-quality soundproof recording studio on our facility.
Lights! Camera! Action!
Our first Akha Outreach Media project was a 10-minute video recalling the history of Akha Outreach, which was shown at our Ten Year Anniversary celebration on March 5, 2010. Other productions in the works include the Worship Together Akha praise and worship CD, dubbing of the Acts and Matthew videos and, later, full-length productions in the Akha language. Stay current on our progress here: http://www.facebook.com/AkhaOutreachMedia.
How You Can Help
Training, production, and distribution will be regular expenses for the ministry until our distribution level is such that we are self-sustaining. If you are interested in contributing to our media ministry, please click here: Support Media Ministry.
2001 – Akha Outreach is registered in the United States at a 501(c)3 non-profit organization
2003 – Akha Outreach is registered with the Thai Department of Social Welfare for Tribal People
2004 – Akha Outreach becomes an official foundation in Thailand
2006 – Akha Outreach registers as a church entity with the Evangelical Fellowship of Thailand
2008 – Akha Outreach wins "Best Foundation in the Northern Provinces" award on both
local and regional levels
2010 – Akha Outreach wins "Foundation of the Year" award
Our incredible team are here for you "Profit in business comes from repeat customers; customers that boast about your product and service, and that bring friends with them." "Loyal customers, they don't just come back, they don't simply recommend you, they insist that their friends do business with you." "You'll never have a product or price advantage again. They can be easily duplicated, but a strong customer service culture can't be copied." "Get closer than ever to your customers. So close that you tell them what they need well before they realize it themselves."
I'm so happy with the service from Shoptimizer – my order was delivered within 48 hours and the thought and care they put into their products really stands out. Plus, their support is just awesome!
Fabulous top bought as a birthday gift for a friend who wears it almost every day. Smart packaging which looks exciting and special. Very good on delivery. Will purchase it again as a gift and for myself!